Hello everyone, great to be here.
A friend is restoring his 1946 Buick Super convertible that was delivered new to India. We are trying to ascertain the original combinations, can someone please assist with decoding the VIN details?
14467716 (I assume commission number)
1946 MOD
STYLE No. 46-4567
BODY No. 2239
TRIM No. 65
PAINT No. 14 (I believe Sequoia cream)
TOP - B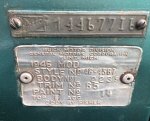 Is it possible to learn more about the exact date of manufacture and dispatch, the dealer who ordered it etc? A birth certificate if you will.
Looking forward to hearing from you guys, and would especially appreciate references for the upholstery patterns and finishes as well.
Cheers
Karl