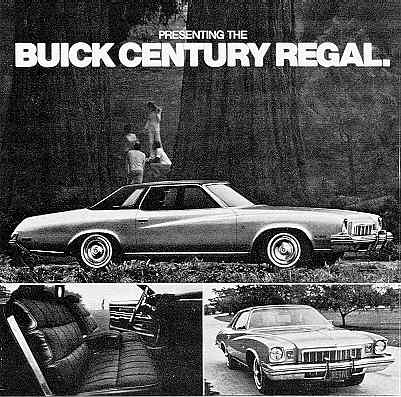 The new Century Regal is different from any other luxury car Buick has ever built.
It's not as big.
Except when it comes to flair. Then it's the youngest looking, acting, feeling Buick ever.
With the quality Buicks have always had. And with solid
engineering features you always expect in a Buick.
Like Buick's unusual directional stability system called AccuDrive. A
special time modulated choke for quick starts. Computer selected chassis springs for consistent ride and handling. Front disc brakes. All standard.
And the available interior gives a level of luxury that matches the biggest Buicks built.
The new Buick Century Regal . It's a different Buick.
For a different life style.

WOULDN'T YOU REALLY RATHER
HAVE A BUICK?
How about some technical information
---
1973 Buick Production Figures
CENTURY SERIES
Model 4AD29-Four-Door Pillar Sedan
38,202
Model 4AD37-Two-Door Pillar Coupe
56,154
Model 4AF35-Station Wagon(two seats)
7,760
LUXUS SERIES
Model 4AH29-Four-Door Pillar Sedan
22,438
Model 4AH57-Two-Door Pillar Coupe
71,712
Model 4AK35-Station Wagon(two seats)
10,645
REGAL SERIES
Model 4AJ57-Two-Door Sport Coupe
91,557
APOLLO SERIES
Model 4XB17-Two-Door Hatchback Coupe
9,868
Model 4XB27-Two-Door Coupe
14,475
Model 4XB69-Four-Door Sedan
8,450
LESABRE SERIES
Model 4BL39-Four-Door Hardtop
13,413
Model 4BL57-Two-Door Hardtop
14,061
Model 4BL69-Four-Door Sedan
29,649
Model 4BN39-Four-Door Custom Hardtop
55,879
Model 4BN57-Two-Door Custom Hardtop
41,425
Model 4BN69-Four-Door Custom Sedan
42,854
ESTATE WAGON
Model 4BR35-Wagon(two seats)
12,282
Model 4BR45-Wagon(three seats)
23,513
CENTURION SERIES
Model 4BP39-Four-Door Hardtop
22,354
Model 4BP47-Two-Door Hardtop
16,883
Model 4BP67-Convertible Coupe
5,739
ELECTRA 225 SERIES
Model 4CT37-Two-Door Hardtop
9,224
Model 4CT39-Four-Door Hardtop
17,189
Model 4CT37-Custom Two-Door Hardtop
44,328
Model 4CT39-Custom Four-Door Hardtop
107,031
RIVIERA
Model 4EY87-Two-Door Coupe
34,080
Total Production...............................821,165