Eleven Million Buicks produced in December, 1962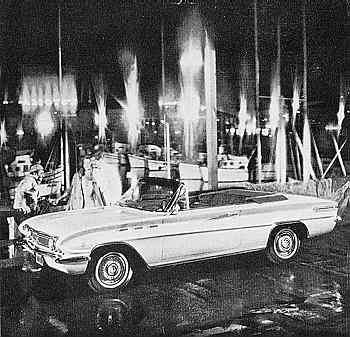 Buick announces the Skylark convertible!
Happily timed to capture the foot-loose, fancy-free feeling of Spring-the sparkling new Skylark convertible. Sports car adventure in a luxurious, new dimension. With lush vinyl interior. Deep pile carpeting. Front bucket seats. Electrically operated top. The take-off who-o-o-sh of the 190-h.p. aluminum Skylark V-8 with 4-barrel carb.
Choice of 3-speed transmission, optional Dual-Path Turbine Drive* or sporty 4-speed floor-mounted stick shift. Drive this mint-new companion for the hardtop Skylark at your Buick dealer's. (He's got Spring trading fever!)
BUICK MOTOR DIVISION-GENERAL MOTORS CORPORATION
*optional at extra cost
ONLY BUICK DEALERS HAVE THE NEWS FOR SPRING!
NEW SKYLARK CONVERTIBLE! NEW BUICK WILDCAT!
How about some technical information
---
1962 Buick Production Figures
SPECIAL SERIES
Model 4019-Four-Door Sedan
23,249
Model 4027-Two-Door Coupe
19,135
Model 4035-Estate Wagon (two seats)
7,382
Model 4045-Estate Wagon (three seats)
2,814
Model 4067-Convertible Coupe
7,918
Model 4119-Four-Door Deluxe Sedan
31,660
Model 4135-Deluxe Wagon (two seats)
10,380
Model 4167-Deluxe Convertible Coupe
8,332
Model 4110-Stripped Chassis
624
Model 4347-Skylark Two-Door Coupe
34,060
Model 4367-Skylark Two-Door Convertible
8,913
LESABRE SERIES
Model 4411-Two-Door Sedan
7,418
Model 4439-Four-Door Hartop
37,518
Model 4447-Two-Door Sport Coupe
25,479
Model 4469-Four-Door Sedan
56,783
INVICTA SERIES
Model 4635-Estate Wagon (two seats)
9,131
Model 4639-Four-Door Hardtop
16,443
Model 4645-Estate Wagon (three seats)
4,617
Model 4647-Two-DoorSport Coupe
12,355
Model 4667-Convertible Coupe
13,471
ELECTRA 225 SERIES
Model 4819-Four-Door Sedan
13,523
Model 4829-Four-Door Riviera
15,395
Model 4839-Four-Door Hardtop
16,734
Model 4847-Two-Door Sport Coupe
8,922
Model 4867-Convertible Coupe
7,894
Total Production...............................400,150