General Information
I am happy to be the second owner of this car. When I got it, it did not have a posi or power brakes. I added both immediately.
I have also add power windows and an OE am/fm radio.
The wheel are 15X7 from Wheels Vintique.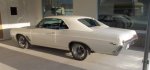 The original owner had the seats redone with velour inserts sewn in the original pattern. I really like them, and if I change the interior, I will do the same thing.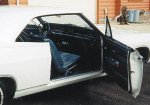 I bought a set of Kumho colored smoke tires a few years ago. I burned them off in Libby Montana, needless to say it was a lot of fun... No, they didn't last long