​
Make sure you are logged in! You will see your handle near the top, right side or the page. If you are not seeing an image and your "handle", you are not logged in.
Then go to the classifieds, again check that you are still logged in! If not, your computer is not accepting cookies or is running too high in some security settings that it will not allow you to log in.
Look for this image, and click on the dots with the pull down arrow...

Click on it to open the pull down menu where you should find the options, Set cover image, Edit Listing, Close listing, Delete listing.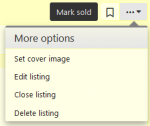 ---
Set cover image:
allows you to choose which of the images you uploaded is featured.
---
Edit listing:
gives access to and editing page exactly as when you posted the ad
---
Close Listing:
allows you to close the listing. This removes it from all views except the listing owners and moderators.
---
Delete Listing:
Removes the listing from the board.
You also have the option to "Mark as Sold", It does not close the listing or thread and does not edit the title. It does put a visible
"Sold"
on the listing.
Last edited by a moderator: