General Information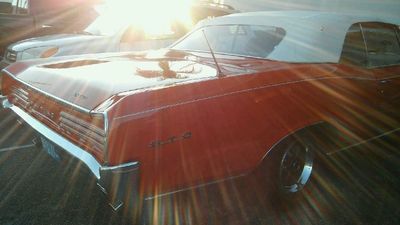 1966 GTO convertible 2b powered by BUICK 455cu.in. Riviera 87 Octane 1976 Numbers Engine.
TA455 rebuilt con rods - TA HD stamped rockers / chrome shaft - bronze valve guides Teflon Seals -
Gasket Matched Intake / Exhaust / Edel Performer Intake EFi Mod - Oil Pump / Adj. Pressure -
Hydraulic Roller Cam - Pistons unknown at the moment - TA hugger shorty headers
The '75-'76 engines were by Design to run on inexpensive low Octane fuel.
This is the perfect Big Block for a go to the shore cruiser convertible.
I was 20 in 1972 when I found this GTO convertible in a Towing Yard -
Stolen & 389/4spd stripped out - dumped down by Hudson River.
The novice hotwired Glove Box Light to Back Up Lights .. Wiring Spaghettis.
$75.00 & a Bottle of Good Scotch from West Point .. Beansy's Towing flat bed left it
at the front door.
Scored a less than 1k mile '72 Pontiac GP 400 / TH400 combo for $500 from a salvage yard
along with the fresh GP rims.
Moved trans crossmember back - added Cherry Bomb longs & left town to work
playing Bass behind The Shirelles - The Original Coaster - Opened for Chubby Checker
& The Five Satins on Long Beach Island , New Jersey.
The 400 GP motor is Retired. The TH400 is being kept until someday when GM sorts out
the 6spd - 8spd Automatics. Don't want to cut the floor so probably the 6spd Paddle Shift.
47 year Love Affair.