VEHICLE IDENTIFICATION NUMBER
IMPORTED MODELS -
The
vehicle identification number
(car serial number) is on a plate welded to the body on the left front door hinge pillar.
This number is also stamped on the top surface of the crankcase, just forward of the valve lifter cover on the left side, and constitutes the legal engine number. Toward the right side of this same surface will appear the production code number, (stamped upside down from the front of the engine) this number, along with the vehicle identification number (car serial number) will be used to identify the engine on product reports etc. The production code number does not constitute a legal engine number for registrations, titles, etc. A stamped 1/4° long dash directly following the production code number indicates a production engine with .010° O.S. pistons (US production only).
CANADIAN BUILT MODEL - Each vehicle carries a separate vehicle serial number plate and a body serial number plate. The vehicle serial number plate is affixed to the left front pillar post below the belt moulding line. This plate shows the model, vehicle, serial and engine number. The body serial number plate is mounted to the right of the air intake blister on the left hand side of the cowl. This plate show the body serial number, body style, trim, paint and special body options.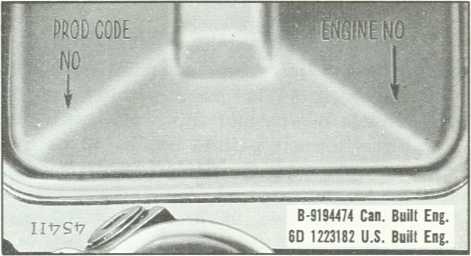 FIRST DIGIT:
Identifies the Series
SERIES
CODE
Special (40)
Super (50)
Century (60)
Roadmaster (70)
4
5
6
7
SECOND DIGIT:
identifies the model year (D = 1957)
THIRD DIGIT:
identifies the assembly plant
ASSEMBLY PLANT
CODE
Flint, MI
South Gate, CA
Linden, NJ
Kansas City, KS
Wilmington, DE
Atlanta, GA
Framingham, MA
Arlington, TX
1
2
3
4
5
6
7
8
LAST SIX DIGITS:
Represent the basic production sequence