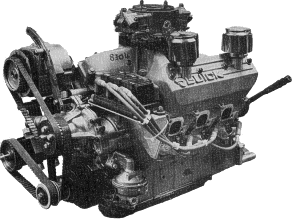 Good things come in small packages. Compared to a V8, a Buick V6 is rather diminutive, except when it comes to power. Jim Ruggles' Grand National Sportsman engines produce 530+ horsepower from 274 cubic inches. Even without a hand-held calculator, that figures out to 1.94 horsepower per cubic inch, an impressive figure for any engine on one four-barrel carburetor and gasoline.
TWO LESS = MORE, Buick V-6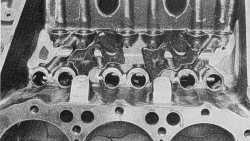 Preparing a Stage II V6 block requires standard machine-shop operations and a few simple procedures peculiar to this engine. In addition to normal debarring, the lifter gallery is machined to accept a rev kit. The floor is also filled with epoxy to aid oil drain-back, and trash screens are installed.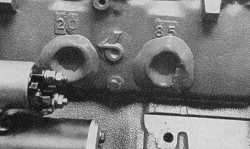 Freeze plugs are epoxied into place at the factory. However, the coolant drain hole must be drilled and tapped to accept a plug. Its easier, neater, and cleaner if this is done before the engine is in the car and full of coolant-unless you need a bath.



"A Buick running the Grand National Sportsman circuit? You gotta be kiddin'." Just a few years ago, (when Grand National Sportsman was called Late Model Sportsman) that would have been the reaction of anyone familiar with circle track racing. But with Jim Ruggles and other noted engine builders applying their talents, it hasn't taken long for the Buick V6 to become a legitimate competitor. And last year, Ruggles built Buick V6s, driven by Tommy Houston, Dale Jarrett, L. D. Ottinger, and Morgan Shepherd won a total of 10 Grand National Sportsman events, setting a number of track records in the process.

At this point in the development of the Stage II Buick V6, a Grand National Sportsman-legal 274-cubic-inch (4.020-inch bore, 3.590-inch stroke) super-speedway engine will produce 530+ hp at 7500 RPM and 386 ft./lbs. of torque at 5500-5700 RPM. The relevant numbers for a short track engine are 515 hp with 404 ft./lbs. of torque. The credibility of these figures has been demonstrated on a number of racetracks. At Daytona, Buick V6s have run race laps of 193.5 MPH and in so doing, walked away from 311-cubic-inch V8s that are claimed to produce 525-530 horsepower.

What's so surprising is that it's comparatively easy to build a killer Buick Stage II V6. Under the leadership of Joe Negri and Ron Yuille, Buick Special Products Engineering has made most of the essential parts readily available and the aftermarket has filled in the voids. Ruggles maintains a healthy inventory of "the right stuff," so with a single phone call, followed by a check for the appropriate amount, it's possible to order all the pieces necessary to build a front-running Buick V6. Of course, experienced engine builders may want to do things their own way. Even so, a "walk" through Ruggles' preparation procedure will prove quite informative.
| | | |
| --- | --- | --- |
| Graduates of "Wilbur's Workshop" will be pleased to learn that the Stage II crankshaft is available as a raw forging that can be finished by any do-it-yourselfer with a crankshaft grinder. However, most top engine builders rely on a reputable crankshaft company to supply them with finished cranks. | Ruggles keeps finished Stage II crankshafts in stock and because he does research and development for Buick, these cranks have the latest revisions. The Stage II crank may be finished to any stroke from 2.66- to 3.625-inch. The 274-cubic-inch Grand National Sportsman combination employs a 3.590-inch stroke. | The use of a proper harmonic balancer is vital to the crankshaft's health and welfare. The Buick balancer is tuned specifically for the Stage II engine. |
| Ruggles prefers Bill Miller or Cosworth pistons, but states that some other brands are also suitable. Machine work isn't particularly exotic because Stage II race engines-with compression ratios of 13.6:1-employ flat-top pistons. Ruggles cuts his own valve reliefs by preference; most piston suppliers will flycut pistons if so requested. | | With offset bore engines, H-beam connecting rods, such as those produced by Carrillo, are preferable because they resist the bending moment better. I-beam rods are suitable for on-center bore blocks. |
Cylinder Heads
According to Ruggles, "The key to making horsepower is the cylinder head. That's true with any engine. The Buick V6 has a hell of an advantage because the Stage II aluminum cylinder head (#25500030) is the best wedge design I've ever seen. We port the heads, do a three-angle valve job, and install Howard Stewart (2.02-inch intake and 1.625-inch exhaust) titanium valves along with the proper valve springs and retainers for the cam we're using. The porting is pretty straightforward, there's nothing tricky because the port is the right shape to begin with.
"In addition to air flow advantages, this cylinder head (with an as-cast combustion chamber volume of 44cc) also permits compression ratios in excess of 13:1 with flat-top pistons. In our testing, we've found that the old V8 rules about connecting rod length are meaningless. Traditional rod/stroke ratio guidelines simply do not apply to a Buick V6 because the piston dome has been elimi- nated. With a Buick V6, rod length appears to have absolutely no effect on the horsepower curve. But since an increase in rod length reduces cylinder wall side loading, we use the longest practical center-to-center length, which is 6.500-inches."
Another departure from V8 guidelines comes in the area of fuel octane and spark advance. It's possible to run extremely high compression ratios with a Buick V6 without having to resort to exotic, maximum-octane gasoline. So long as a good quality racing gasoline is delivered to the carburetor in adequate volume, detonation will not be a problem. The combination of a flat-top piston and high-swirl combustion chamber reduces octane requirements as compared to engines with high-domed pistons. With the Stage II's small, high-swirl, fast-burn combustion chamber, the flame front travels quickly and efficiently, so detonation rarely rears its ugly head. Testimony to the efficiency of the Stage II combustion chamber is the conservative ignition timing used with these engines. Even though the spark plug isn't in the exact center of the cylinder, Ruggles specifies only 34° of advance for virtually all his race engines. Hemi-head engines with centrally located spark plugs require approximately the same amount of advance.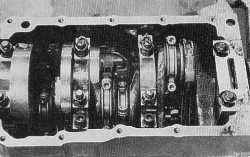 In addition to the other niceties built into the Stage II blocks, the main caps are machined from steel. The two center caps are of the four-bolt variety.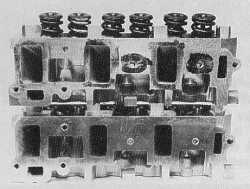 You can look long and hard, but you won't find a better two-valve-per-cylinder head than the aluminum Stage II Buick. Although a fair amount of material is removed during porting, (upper head) extensive reshaping isn't required; the ports are ideally contoured as cast.
Stage II Block
Buick's Stage II block (part #25500016) is a derivative of the production 4.1-liter casting, but it features special high-strength cast iron. For improved head gasket sealing, Stage II blocks feature six head bolts surrounding each cylinder rather than four (as in production engines). Other noteworthy features include reinforced main bearing bulkheads and four-bolt steel main caps.
Relatively little in the way of special machining is required prior to assembly. According to Ruggles, "You use the same practices to prepare a Stage II block that you'd use on any race block. The oiling system is just right as is. In the beginning we had to do a lot of rework, but that's been eliminated. There are a few operations that are peculiar to the Buick, but they're not difficult. One thing we do is totally dry up the lifter bores and tap the oil towers at the front and rear of the block (!/s-inch pipe tap). External lines are then run up to the cylinder heads to pressurize the rocker shafts. This allows us to precisely meter the amount of oil that flows to the top end."
The power levels at which a Buick Stage II engine operates makes cylinder wall thickness an important factor. Consequently, every Stage II block is sonically tested before shipment and the measurements are recorded on a test sheet that is furnished with each block. With the material currently used in the Stage II block, it isn't necessary for the cylinder walls to be excessively thick. Recommended minimum thickness is .180-inch.
As far as special block modifications, steam holes have to be drilled in the bank faces (a Pel-Pro gasket can be used as a template), the front of the block has to be machined for a gear drive and, when roller tappets are to be installed, it is necessary to grind the clearance required to install a high rev kit. It's also necessary to do some grinding at the bottom of the cylinders on the pan rail side for connecting rod clearance.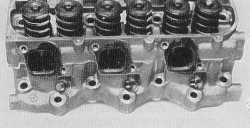 The exhaust ports are also generously proportioned and require only clean-up porting. Following many of the recommendations made by Ruggles, the powers-that-be at Buick Special Products have incorporated the latest racing technology in the cylinder heads and other engine parts.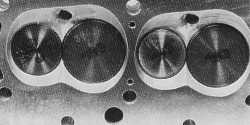 In addition to port size and shape, the combustion chamber is an important ingredient in the Buick Stage II horsepower recipe. The valves are located at the cylinder centerline for minimal shrouding and are inclined only 10°, compared to 23° in a "corporate" V8 head. As cast, the combustion chamber is a mere 44cc.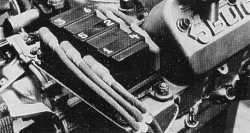 Buick's own distributorless ignition system is hard to teat. It produces an abundance of spark energy and eliminates a potential problem source: the distributor.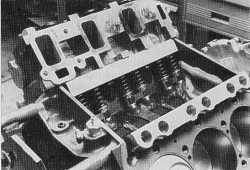 For a maximum power effort where endurance is also an important consideration, a rev kit is essential. Once the block is machined, the rev kit fits neatly in place.
Crankshaft
Ruggles' crankshaft of choice is a Buick Stage II raw forging (#25500008) of SAE 4340 steel, finished to yield a stroke of 3.590-inch. Companies such as BRC, Hank the Crank, Moldex, L. A. Billet, and Pro Crank are capable of taking a supplied raw forging and transforming it into a finished crankshaft, and Ruggles maintains a sizable inventory of finished, assembly-ready crankshafts.
One of the advantages of using a Ruggles crankshaft is that the oiling circuitry will reflect the latest stage of development. Recently, the internal passages that bring oil to the rod bearings were reworked for improved flow with less loss of bearing area.
Ruggles uses special Vandervell bearings that are wider than production bearings, measuring .745-inch as opposed to .680-inch in width-an increase of approximately 12%. It's also possible to narrow a 455 Buick or 455 Pontiac rod bearing to fit a Buick V6 crankshaft, but the Vandervell bearings eliminate the need for this modification. Ruggles also reports that while some thrust bearings have been prone to problems, the Vandervell and Delco bearings have performed flawlessly. Suggested clearances for main and rod bearings are .0021-inch to .0025-inch and .0024-inch to .0027-inch, respectively.
Use of a proper harmonic balancer (Buick #25500069) and a small-diameter flywheel is essential to minimizing harmonic vibrations. Balancing is also an important consideration. If an engine is fitted with solid motor mounts, the balance factor is 50%. Engines with rubber mounts call for a 36.6% balance factor. (That is, 100% of the rotating mass and either 50% or 36.6% of the reciprocating mass combine to make up the bob weights to balance the crankshaft.)
To minimize inertia loadings, the smallest-diameter, lightest flywheel that's practical should be installed. However, in the quest for light weight, stay away from automatic transmission flex plates. They don't belong on a Stage II race engine. With the right balancer and flywheel, the Buick crankshaft is bulletproof, and the engine is free of the vibrations that are associated with V6s.
Connecting Rods
Some engine builders prefer I-beam connecting rods; others prefer the H-beam design. Ruggles prefers the latter style as produced by Carrillo because of his extensive experience with them, all of which has been positive. While I-beam rods are acceptable with the newer on-center bore blocks, only H-beam rods should be installed in an offset bore engine. An I-beam design doesn't have enough material in the right spots to withstand the side loadings created by the offset bore.
Pistons
With no domes to worry about, manufacturing and finishing pistons for a Stage II V6 is a relatively easy project. Ruggles has had excellent experience with pistons from Cosworth and Bill Miller. He states, "We keep a bunch of both Cosworth and Miller pistons in inventory and I prefer these brands, but they're certainly not the only ones available. Any name-brand racing piston should prove satisfactory, but you've got to be careful to get enough material under the dome. You need a generous radius into the pin towers. If the top of the piston is too thin, it will 'oil can' and eventually crack."
Prior to installing the pistons on the rods, Ruggles cuts the valve reliefs and glass beads the skirts for improved oil retention. Piston-to-cylinder wall clearance is set at .0065-inch to .007-inch. Each piston is also fitted with a Speed-Pro ring set. Ruggles has found that a .043-inch plasma-moly top ring, (.180-inch down from the crown) a Winch cast iron second ring, and a Vis-inch stainless, low tension oil ring provide an excellent seal and durability.
Camshaft
Cam timing is another aspect of the Buick V6 that's a little different from other engines. Ruggles states that the engine is especially sensitive to overlap and intake centerline. For Grand National Sportsman racing, he recommends base-lining the engine with a cam having about .680-inch net lift and 270° of intake and 275° of exhaust duration at .050-inch tappet lift. The cam should also have a lobe separation of 106° and it should be installed with an intake center-line of 102°. Rocker arm assemblies are available from Jesel and T & D Machine.
Manifold and Carburetor
To date, the best combination has proven to be an Edelbrock Victor manifold and 850-CFM Holley annular discharge carburetor. Ruggles has had excellent results from carburetors with out-of-the-box calibrations. Jetting is obviously adjusted to set air/fuel ratio as desired.
Ignition
In case you haven't heard, Buick manufactures its own distributorless three-coil ignition system. Ruggles favors this system, but understands some people's reluctance to use anything so new and revolutionary. He advises that any high-energy, racing-type ignition is acceptable. Irrespective of the system utilized, for short track running, Ruggles installs Champion BN63Y plugs, and on the superspeedways he screws in a set of either BN60s or BN57s, depending upon the engine's indicated heat-range preference.
Oiling System
With the previously described modifications made to the block, a three-stage dry-sump oiling system will deliver all the pressure and volume required to eliminate oil-related engine problems. Several manufacturers have suitable systems available, but Ruggles favors Weaver pumps and Moroso pans. In fact, if you're looking for some free horsepower, try one of the pans Ruggles developed for Moroso. Ruggles claims it to be worth about 14 horsepower over anything else that's been tested.
Before firing the engine, Ruggles fills the sump tank with Valvoline 20W-50 Racing Oil and primes the system. He advises, "Considering the power these engines are making, bearing loads are pretty high, so oil quality is very important. I've found Valvoline does an excellent job of lubricating-it must because we've never had an oil-related engine failure. One thing to be aware of is that it's necessary to run a little more oil pressure than with some other engines. Look for about 90 PSI at 7500 RPM."
Even at current power levels, which are impressive to say the least, Ruggles is convinced there's more to come. "The full potential of the Buick V6 engine is just being tapped. But before you can take full advantage of it, you've got to stop 'thinking V8'. With the parts avail able, Buick Special Products Engineering has made it easier to build a competitive Buick V6 than any other engine. Just listen to what the engine tells you, and you'll be successful."
RUGGLES PERFORMANCE PRODUCTS 2346 Mellon Court Dept. CT-04
Decatur, GA 30035
(404) 981-9210