Buick V-6 Changes for Racing!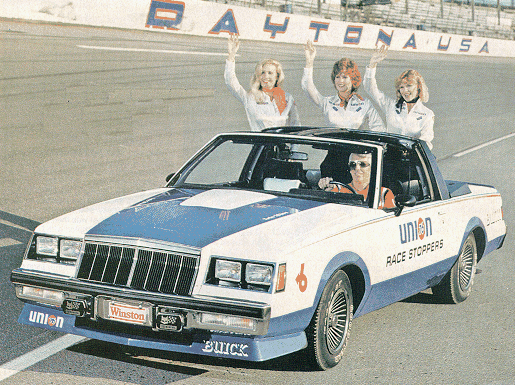 Union 76's new pacer is really a racer in disguise.
BORN OF THE INDIANAPOLIS PACE CAR project at Buick, Union Oil's new pace car is mostly race car that can be driven over the road.
The car was designed and built to carry a trio of attractive Racestoppers around America's superspeedways but to also serve as a speedway pace car, capable of bringing the Winston Cup chargers around the track at speeds of well over 100 MPH.
Buick began by boxing the frame for rigidity. The F-41 handling package was added which included a set of 650 pound front springs and 200 pound rear springs, considerably stiffer than those used for over-the-road cars. A heavier anti-roll bar was installed as were four Goodyear Eagles, the same tires as were run on the pace car at Indy.
The steering effort was significantly increased for improved driver feel at high speed.
The engine, a 3.8 litre turbocharged V-6, provides sufficient moxie to light the tires easily and pushes the 3570 pound machine to cruising speed in a hurry. But it really turns on a over sixty miles per hour.
"We wanted something that looked good but that would also be able to zip in and out of traffic incase anybody got out of line while the car was pacing a race." says Buick development engineer Ray Smith. "So after we finished with the car, we spent plenty of time on the proving ground test track with it to be sure it performed the way we wanted it to."
The roof features removable glass T-top construction and a stow-away convertible back section. The roof hoop between the T-top and the convertible back is a fully functional roll bar. The convertible stowage area has been specially reinforced because it's assumed that the Racestoppers will be riding on it during parade laps.
A front air dam and fully functional rear spoiler were the primary body modifications. The car glows with a dazzling paint job in Union 76 red, white and blue.
Buick, which owns the vehicle and which has loaned it to Union Oil for the year, values the piece at over $45,000. The car can never be sold because it's one of a kind. According to current law, for a manufacturer to sell a car, it has to be crash tested. If this car is crash tested, since it's one of a kind, there's nothing left to sell. Sot it's quite unclear about what its future will be after Union 76 has finished with it.
While the car is on the road, Racestoppers are sure to enjoy its interior with stereo tape deck, AM-FM radio, Rear type front seats, magnificent upholstery, CB radio and, of course, and Escort radar detector.
Have fun girls.
---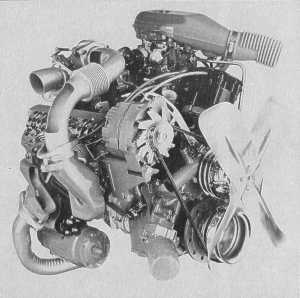 Buick and Chevy are locked in a battle to make the best racing V-6. Buick has suffered from some handicaps in that war. But now they are fixing their problems and mean to win.
DICK'S RACING ENGINE is an extension of their passenger car engine, just as Chevy's V-6 racing engine is an extension of theirs. There is an intense rivalry between the two divisions of GM at the present time to make their racing engine the one that will be the dominant form of powerplant for stock car racing. Right now, the edge goes to Chevy's engine because it is, out of the crate, closer to what speedway racers want than Buick's product. However, Buick is working late at night to make their engine better and by the end of the 1982 racing season, they will have made significant strides in that direction.
To make the present Buick V-6 work as a racing engine, it's necessary to add a bottom end girdle to it, plum the crankshaft for external oiling and do considerable head work. Even so, there aren't sufficient head bolts per cylinder to assure no head gasket failures at racing speeds. Further, the valves in the present Buick V-6 engines are much smaller than those in the V-6 Chevy. Since an engine is an air pump, those small valves hurt the Buick in comparison to the Chevy.
While Buick isn't building a new engine, they are working to resolve all of the above problems.
One of their most important projects is a new head which will be vastly different than the current model. It will feature 2.02 and 1.60 valves, comparable to the Chevy. The new head will be much taller than the present one which should allow a more effective intake runner length which will improve induction. The new head will have six holes for head bolts and blocks can be drilled and tapped for six holes which should solve the head gasket problem. Initial tests indicate that the new head will flow as well as or better than the current Brodix V-6 Buick head. Buick's head will be made of cast iron rather than aluminum. It's Buick's feeling that cast iron should make the head more acceptable to cost conscious racing associations. Bolt on, Buick says the head will be worth 50HP extra with more to be gained from porting.
Soon, there will be a forged rod and forged crank, direct from the factory. Both are improvements over what is currently available.
Buick is also reworking the bottom end of their block. Main webs leading to crank journal supports in the block will be thickened. Although no four-bolt assembly will be available from the factory, Buick put enough meat in the bottom end so that four-bolt aftermarket kits can be installed.
Such kits have been very successful in converting Chevy V-8 two bolters to four.
At this time, there are five engineers working full time on the modifications. Some of them are ex-racers. All are interested in making the Buick V-6 the racing engine of the future. There is a recognition in Detroit that racers buy many parts and that their business is worth a considerable amount of money. Detroit is also beginning, once again, to recall that what wins on Sunday sells on Monday. So Buick wants their engine to be the hot item from Detroit.
In fact, at present time, racing trohies are in the Buick Engineering's front office and believe it or not, the cover of Stock Car Racing Magazine's issue featuring the Buick V-6 hangs framed in the main engineering office at Buick.
There will be two versions of the Buick V-6 in 1982, one of them called Stage I and the other Stage II. Both are significant improvements over the stock V-6 from Buick, in terms of racing, and both are better than what's out there now. The new parts are being designed to insure that as little of what is now being used will be made into scrap as possible. But there will be scrap as a result of the changes.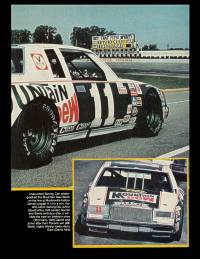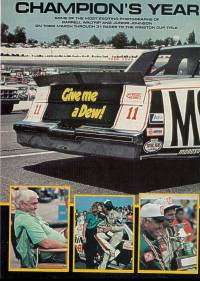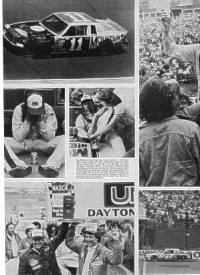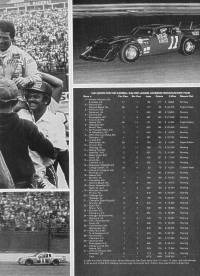 Article from Stock Car Racing (November, 1980) contributed by bob k. mando
Looking for a back issue of Stock Car Racing?
Click Here!