Your Own Machine Shop for $10,000!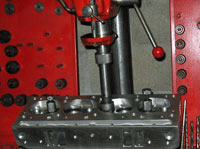 Your Own Machine Shop for $10,000!
By Keith Morganstein
Max Effort Engines and Machining
Many engine builders dream of having their own machine shop. Doing your own machine work gives you total control over your jobs. Having a machine shop gives you opportunity to make money working for others.
Assemble your own machine shop for $10.000. Am I crazy? I assure you that a shop can be put together in this budget range.
The first step is planning. What space do you have available? A two car garage, barn or walk-in basement will do. More space is a plus.
What is the scope of the shop? Think about what type of work you will do the most of and concentrate efforts and resources there.
Layout is a key consideration. An efficient work area is often a large central work bench with the machines arranged along the outer walls.
Think about the work flow: Start with the load and unload area. The tear down and cleaning equipment should be close to this. Group the heavy cylinder block work in one line. Have the parts washer, cylinder hone and resurfacer along one wall. This will let you put an I-beam with hoist above the machines so you can easily go station to station. Cylinder head work can be arranged along an adjacent wall. Cylinder head are light enough to carry and do not require a hoist. You would like to be close enough to the resurfacer to make it efficient. Other machines such as a rod hone or piston press can be further away as these pieces are very light.
Contamination: keep any grinding operations on the other side of the shop from the engine assembly area. A small shop vacuum in the cylinder head area can keep contamination down and the operator healthier.
Storage: This is at a premium in a small shop, shelving units, pegboards and dividers go a long way in adding needed storage for parts.
The equipment: Buying vintage affordable equipment is the key to keeping in the budget. Supplementing this with clever shop made additions will stretch your funds. There are many good sources of affordable equipment. Auctions, want ad,s, eBay, usedshopequipment.com, Craig,s list etc..., Ask around - many shops have gone out of business or just stopped taking in work when the machinist retired. Ask the local parts store what happened to the equipment they used to machine with. It might still be in the back room. Talk to other shops that are upgrading. They may let you take their old equipment at a reasonable price.
Make good equipment choices. Try to buy once. Chose brands that parts (new or used) are still available for. It is hard to go wrong with vintage equipment like Van Norman, Kwik-Way, Sunnen, storm Vulcan, Peterson etc... Buy used, not used up. Inspect for wear, especial on machines with sliding ways. Pass on those machines that are worn out. Look for equipment package deals. I have seen fairly complete shops sold for $10K.
Here are some equipment suggestions and typical prices:
Cleaning tank: Water based, Jet Wash, type unit. There are new units as low as $2000. Used machines are $500 and up.
Cylinder boring: The only affordable option is the portable boring bar. Most common are the Kwik-Way and the Van Norman. Purchase it complete with the tool kit and test run (bore a cylinder) if possible. Many complete bars can be found for under $1000.
Cylinder hone: A shop fabricated honing tank with a heavy duty Sunnen AN hone may be answer for a while. Used commercial units such as Serv-Equip go for about $2k, but a shop built tank can be made for under $500.
Resurfacer: This is an important part of the shop. This machine will generate revenue machining cylinder heads for local repair shops. Invest a little more on this machine. There are several styles out there. Some use cutters, some use grinding segments. Expect to pay $2500 for a good used machine. I have seen them low as $500. Stay away from dry-rock resurfaces and belt sanders.
Valve Seats: Affordable valve seat equipment is a grinding stone set-up. Try to purchase a brand that is still being manufactured. I recommend Sioux or Kwik-way equipment. Try to buy a very well tooled set with a lot of pilots, stones, grinder units, power unit and dressing stand. It is much cheaper to buy it all together $500 can buy a decent used set.
Valve refacer: The important thing is that it is a fluid cooled machine. Inspect the chuck for runout. .00050/00 is great, .001 is o.k. more than that and the chuck needs to be repaired or replaced. Expect to spend $500-$1000 here for a serviceable machine.
Seat and guide machine: They can be used not only for seats and guides, but bowl hogging and other operations. An old, accurate and inexpensive machine is the IDL 550-650.; these are going for $1000 or less. The Winnona PH200 has come way down is price too. Again, try to buy these machines with tooling.
Bronze liner tooling: This is affordable tooling that lets you do quality guide work. These kits can be purchased for $300 new, much less used.
Rod hone: Some shops do not find this a necessity. Used Sunnen hones can be had for $500-$600 the gauge will cost you another $500-600. Mandrels are readily available on eBay and used dealers.
Bridgeport: A vertical mill is very handy in a shop. They can be adapted to all sorts of automotive machining tasks. Good old machines can be very reasonable. Often a couple hundred at an auction or even free for the hauling away.
Many machines that you find will be three phase operation. Don,t let this scare you away from a great deal. Phase converters can be built from plans on the internet metalwebnews.com or purchased on eBay.
posted by Racing Secrets