Howdy,
As noted in my intro, I'm replacing a slant six in an unfinished street rod project I built (that returned to me recently) with a '48 248 straight eight.
Here're a couple pictures, and I'll keep the project updated as I do the rebuild.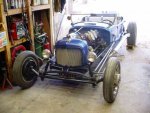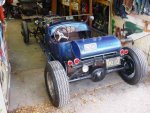 This'll be an unhurried (re)project, and I'll certainly be needing my hand held a bit as I learn the Buick.
I'm presently starting to chase down the missing parts for the mill,
(please see needed parts post here
https://www.teambuick.com/forums/sh...stribtor-and-rockers-cross-reference-question
)
and thrashing out the mods it'll need for my chassis (a titled Deuce) and to mate it to a pb904 from a slant six. I'll be going with a set of four SUs for carbs, and a mild street build for the guts. Hoping to have'er back on the street later this year, or early next.
Last edited: