I am looking for suggestions or examples of modified GM intake manifold for a 455 build.
I have found this one on the web: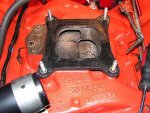 It looks about what I would expect.
We also have an example of a modified Nailhead dual quad manifold on the site:
I want the original appearance and drivablility. I was thinking that perhaps I should just open up the secondary section of the manifold and leave the primaries alone.
What do you think?