Hi there,
would like to get my (supposedly original/factory) radio "Sonomatic AM" out of the dashboard of my 1967 LeSabre - the radio seems to be either out of order or not properly connected. No sound, just illumination of the dial as soon as I turn on the light.
So, do I approach this from the front (remove knobs, remove front plate/bezel, remove radio) or somehow rather from the backside? I already peeked from underneath but found no obvious screws etc.
Thanks for any insighs!
Cheers,
Harry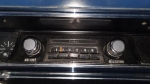 Last edited: