Buick Bellhousings:
Both the Chevy and BOPC ( Buick, Olds, Pontiac, Caddy ) transmissions were 6 bolt housings for most of their production life. The original Chevy housing was 7 bolt and thats why their trans housings have a peak. In fact, most Chevy blocks were manufactured with the top center bolt hole drilled and tapped long after Chevy had changed to a 6 bolt housing.

So how do you tell the difference between the common as dirt Chevy pattern and the far more desirable ( to us ) BOPC housing? 1. Well, the first and most commonly stated visual reference is the Chevy peak versus the BOPC saddle at the top of the bell housing.

Here's a picture of the Chevy ( L ) and BOPC ( R ) pattern bells: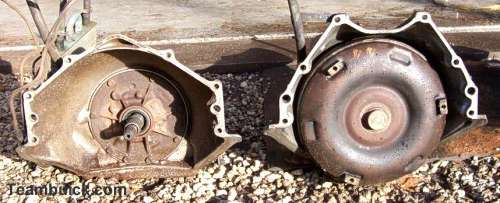 2. Also, only the two bolts below the alignment dowels share the same position between the two patterns. This is why a dual-pattern housing has 10 bolts, all the holes above the dowels must be duplicated. A Chevy bell has two bolts on each side aligned vertically with the respective alignment dowel. A BOPC bell only has the bottom bolts aligned vertically with the dowel and the higher bolts are moved inboard.
Here is the closeup of the blocks. A Chevy 350 and 1970 Buick 350: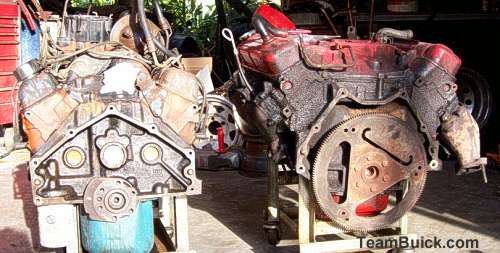 Then we have the differences between the most common GM automatics, the TH-400 BOPC short-tail ( L ), BOPC long-tail ( C ) and Chevy TH-350 ( R ):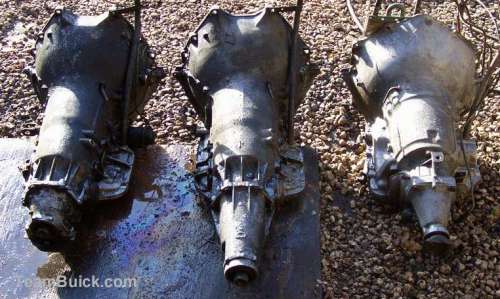 Here's a picture of a Dual pattern trans: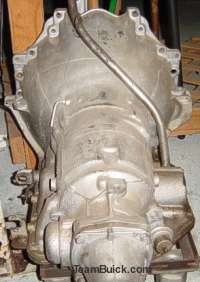 Interestingly, I've seen a factory dual pattern Manual housing within the last month.
contibuted by bob k. mando

Here's a Super Turbine 400 ( early name for what is basically a Turbo-Hydromatic 400 ) for a 1965 401 Nailhead. Notice that even though it's still a 6 bolt pattern ( the second hole up from the bottom on both sides is for a guide pin, not a bolt ) it's wildly different from the later 'standardized' patterns. I have no idea if this pattern is found on anything besides Nailheads.
Dynaflow:
NOTE: Following markings are stamped on aluminum plate low on the transmission, on left side and between the main transmission case and the front pump housing.
IDENTITY
LETTER
USAGE
H
'53 40 ser.
J
'53 50, 70 ser.
K or M
'54 40,60 ser.
P
'56 All
R
'57 All
S
'58 All
T
'55 50, 70 ser.
W
'59 All
Here's a few code for the Turbo 400s!
| | | |
| --- | --- | --- |
| YEAR | APPLICATION | CODE |
| 1964 | 300 V8 LeSabre | BU |
| | 401 V8 column shift | BJ |
| | 401 V8 console shift | BK |
| | 425 V8 column shift | BL |
| | 425 V8 one carb console shift | BN |
| | 425 V8 two carb column shift | BP |
| | 425 V8 two carb console shift | BQ |
| 1965 | 300 V8 LeSabre | BU |
| | 401 V8 3.07 axle | BJ |
| | 401 V8 Riviera (3.23 axle) | BR |
| | 425 V8 4bbl. carb 3.07 axle | BN |
| | 425 V8 3.23 axle | BT |
| | 425 V8 two carb 3.07 axle | BO |
| | 425 V8 two carb Riviera (3.42 axle) | BS |
| 1966 | 340 V8 LeSabre | BU |
| | 401 V8 | BR |
| | 425 V8 Grand Sport & Riviera | BS |
| | 425 V8 all others | BT |
| 1967 | 340 V8 LeSabre 400 | BU |
| | 400 V8 GS400 | BA |
| | 430 V8 Wildcat, Electra & Riviera | BT |
| | 430 V8 Sport Wagon 400 | BW |
| 1968 | 350 V8 LeSabre | BU |
| | 400 V8 Sportwagon | BW |
| | 400 V8 GS 400 | BA |
| | 430 V8 Wildcat, Electra & Riviera | BT |
| 1969 | 350 V8 LeSabre | BU |
| | 400 V8 Sportwagon | AW |
| | 400 V8 GS 400 | BA, BB |
| | 430 Wildcat & Electra | BC |
| | 430 Riviera | BT |
| 1970 | 455 GS | BA |
| | 455 GS Stage 1 | BB |
| | 455 Riviera | BT |
| | 455 all others | BC |
| 1971 | 455 GS | BS |
| | 455 GS Stage 1 | BB, OW |
| | 455 Riviera | BT |
| | 455 all others | BC |
| 1972 | 455 GS | BS |
| | 455 GS Stage 1 | BB |
| | 455 Centurion high performance | BU |
| | 455 Riviera GS other models with performance rears | BT |
| | 455 all others | BK,BC |
| 1973 | 455 Century & Regal | BS |
| | 455 Century & Regal Stage 1 Ram Air | BB |
| | All high performance | BT |
| | All others | BC |
| 1974 | 455 Century & Regal | BS |
| | 455 Century & Regal Stage 1 Ram Air | BB |
| | All high performance | BT |
| | All others | BC |
| 1975 | 350 Lesabre (Turbo 375) | BK |
| | 400 | OC |
| | 455 | BC,BT |
| 1976 | 350 Lesabre (Turbo 375) | BK |
| | 455 | BC |
| | 455 | BT |
| 1977 | 350 Century wagon | BC,BB |
| | 350 | OB |
| | 403 | OC |
| 1978 | 350 Electra & Riviera | OD |
| | 350 Electra & Riviera | OB |
| | 400 | BC |
| | 403 | OD |
| 1979 | 350 Electra (Buick engine) | BB |
| | 350 Electra (Olds engine) | OB |
| | 403 Electra | OC,OD |
| 1980 | 350 Electra (Buick engine) | BB |
| | 350 Electra (Olds engine) | OB |
| 1981 | 350 Electra (Buick engine) | BB |